We hope to see you at our Annual Celebration
Sunday, June 3rd, 2018!
3:00 pm to 5:00 pm
This year for our Annual Celebration, we are pleased to recognize the following honorees:
Guests of Honor ~
Devorah and Josh Kosowsky
R. William Striar Service Honoree ~
Jon and Miriam Marcus
Excellence in Teaching Award ~
Hani and Itzik Moyal
Fifth Grade ~
Graduating Class of 2018
Advance Ticket prices: Tickets at the door:
$18 child/$25 adult $20 child/$30 Adult
$95 family Cap $120 Family Cap
Register Here!
Please select a ticket type from the drop down menu below, then click on the "Add to Cart" tab.
The paypal cart will open in a new window/tab for you to see your ticket choice and to adjust the quantity as needed.
To add an additional ticket type, please return to the original tab/window and select the additional ticket type to your cart before you checkout.
Join us for an afternoon of family fun.
Celebrate Israel @70 with a live performance of original and classical Jewish music by Hazon
Musical Intro from the SHAS student choir
A special kids program with "Mike the Bubble Man"
Great Door Raffles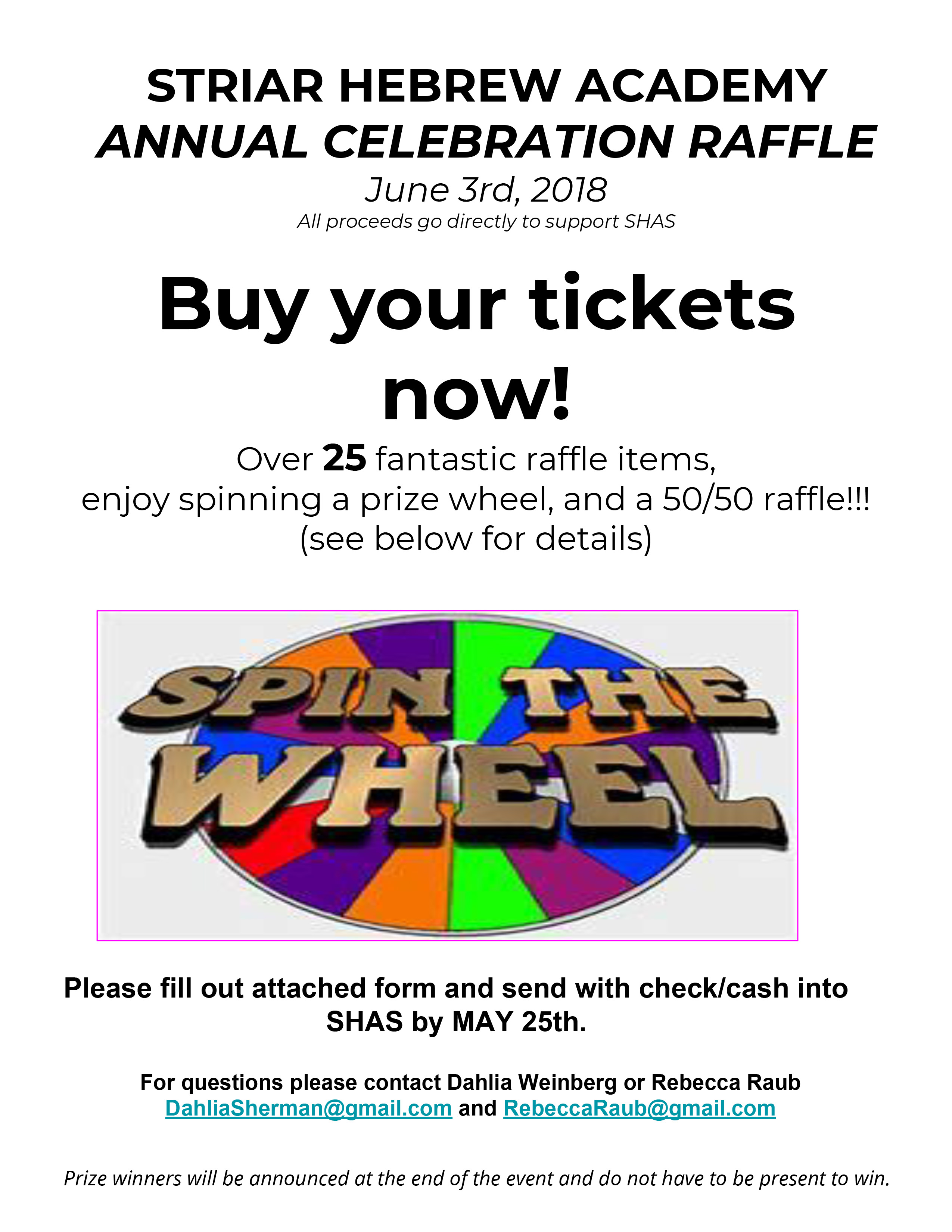 Click on the link to buy your raffle tickets NOW! Striar Early Bird Raffle Tickets
We invite you to place an ad in our ad journal in honor of our honorees. It is a wonderful opportunity to acknowledge our honorees with your personal message. This journal will be distributed at the Annual Celebration, and is an ideal way to contribute toward the success of Striar Hebrew Academy. Please show your support for Striar Hebrew Academy and our incredible honorees by completing and returning the Personal Ad Journal Form or Business Ad Journal Form by January 31st, 2018.
Forms can be mailed to 100 Ames St. Sharon, MA or sent via email to adjournal@striarhebrew.org.
Thank you so much for supporting Striar Hebrew Academy!
Thank You!
We have listed 2 options for you to choose from for your donation:
For Personal Ad options, please use the following PayPal button. The Ad Journal Form for personal ads can be found here.
For Business Ad options, please use the following PayPal button. The Ad Journal Form for businesses can be found here.
For more information about our Annual Celebration or Ad Journal, please contact us at adjournal@striarhebrew.org or 781-784-8724.