We hope to see you at our Annual Celebration on May 21st 2017!
Sunday, May 21 3-5 pm
25 Canton St. Sharon, MA
Featuring musical headliners Six13; Kol Dodi Dofek to open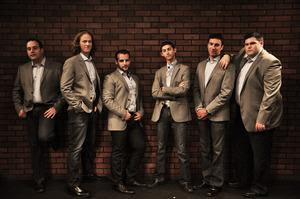 A family friendly afternoon of a capella
Price in Advance
$15 child over 3/$20 adult
$85 family cap
Price at the Door
$20 child over 3/$25 adult
$110 family cap
SHAS RAFFLE
Buy your raffle ticket online or at the door! A few highlights include... Celtic Tickets, Redsox tickets, an American Girl doll, a week at Camp Everwood, science themed birthday party, hand-made jewlery, and so much more!
This year for our Annual Celebration, we are pleased to recognize the following honorees:
Guests of Honor ~ Moshe and Stephanie Kaplan
R. William Striar Service Honoree ~ Nina Weinstock
Excellence in Teaching Award ~ Ulli Rapp
Graduating Class of 2017 ~ Fifth Grade
We invite you to place an ad in our ad journal in honor of our honorees. It is a wonderful opportunity to acknowledge our honorees with your personal message. This journal will be distributed at the Annual Celebration and online, and is an ideal way to contribute toward the success of Striar Hebrew Academy. Please show your support for Striar Hebrew Academy and our incredible honorees by completing and returning the Ad Journal Form by January 30th, 2017.
Forms can be mailed to 100 Ames St. Sharon, MA or sent via email to adjournal@striarhebrew.org.
Thank you so much for supporting Striar Hebrew Academy. We have listed 2 options for you to choose from for your donation:
For Personal Ad options, please use the following PayPal button. The Ad Journal Form for personal ads can be found here.
For Business Ad options, please use the following PayPal button. The Ad Journal Form for businesses can be found here.
For more information about our Annual Celebration or Ad Journal, please contact us at adjournal@striarhebrew.org or 781-784-8724.